Once again. John Hughes Golf is excited to provide you with a few gift ideas for this coming holiday season. Our 2023 Holiday Gift Guide is full of gift ideas any golfer would love to receive. Some of the gift ideas are unique and offered only by John Hughes Golf. And there are product ideas that you'll need to purchase so it is delivered in time for your to wrap and provide your golfer.  Why not spoil your golfer for the holidays with one or more of the suggestions below?
Golf Skill Improvement Programs
The most comprehensive and effective way to improve your golf skills is with personal coaching provided by John Hughes, PGA Master Professional and Top 25 Golf Instructor of Golf Tips Magazine.  Our 2023 Holiday Gift Guide is full of suggestions for you to schedule a coaching session with John, the 2023 North Florida PGA Section Teacher/Coach of the Year.

Send your special golfer to a Top 100 Golf Facility in 2024 so they can improve their golf skills! McLemore Resort Golf School Experiences are 1-to-1 golf school retreats that you or your golfer can schedule between April 15 and November 30, 2024.
McLemore Resort's Highlands Golf Course is a Top 100 Course You can Play, as rated by Golf Digest Magazine. And features the 10th best finishing hole in all the world, as ranked by Golf Links Magazine.  Packages include 3-hours of coaching at the extensive practice facility, lunch, and 9-holes of On-Course Coaching each afternoon. Also included are room nights at Cloudland, A Curio Collection Hotel by Hilton. This is a unique opportunity to receive world-class coaching in one of the most serine and tranquility settings anywhere. Packages are scheduled on a first serve basis and based upon availability of hotel and John's schedule. Click Here to secure your golfer's golf school experience at McLemore before all dates are taken!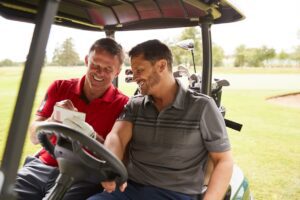 Your golfer and up to 3 other golfing friends can enjoy a half-day of golf improvement and 18-holes of golf. This is a great opportunity to experience an Orlando Golf School at a budget rate, while improving your golf skills at the same time. These programs are scheduled select Monday through Wednesday or Friday through Sunday dates from December 2022 to May 2023 and are limited to 4 golfers per school.  Click Here to secure your golfer's opportunity to learn to play better golf at an Golf School in Orlando Florida.

This is a 2-hour evaluation of a golfer's skills utilizing the golf course as well as state-of-the-art technology to objectively measure and determine your golfer's skill level. The evaluation will provide recommendations to your golfer about how to go about improving. And what skills they should improve first, to make the biggest impact upon their game and ability to reduce their score. After the evaluation, your golfer can use a credit towards any golf coaching program offered by John Hughes. These programs are offered at our Orlando facility only and must be scheduled at least 14 days in advance.  Click Here for more details.

This is not a traditional "lesson package".  It's an opportunity to experience a complete evaluation of your skills, on the course, before making any improvement.  And it is 5-full hours of coaching your golfer can use in any time increment they prefer, 30-minutes, 60-minutes, or all 5-hours at one time.  All technology at our disposal is available for your golfer to learn from.  And the program can take place at the practice facility or the golf course.  Give your golfer a holistic program to make their practice time more effective this holiday season when you give them a Custom Coaching Program.  Click Here for more details.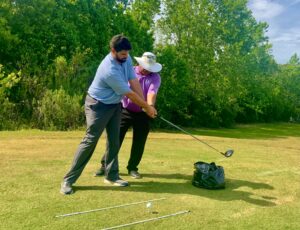 Orlando Golf Schools
January dates are already 90% full. So you'll want to schedule your golfer's Orlando Golf School date as quickly as you can.  These schools are 1-to-1 or 2-to-1 with John and feature 3-hours of instruction in the morning, lunch, and 9-holes of on-course coaching. For more information about Orlando Golf Schools, Click Here. Due to limited availability in the Spring of 2024, you must contact John or a member of his team by email or telephone to secure an Orlando Golf School.
Coaching Memberships
For serious golfers with a serious commitment to improve.  Coaching memberships provide you with a regularly scheduled day and time to use 10 hours of coaching per month. more. And in 2024, Coaching Memberships can include coaching time at McLemore (details to be announced in December of 2023).  Coaching memberships also include a range membership, 1 hour monthly of fitness or sports psychology time with John's expert team, As much on-course coaching as you'd like. and a whole lot more.  For more information, be sure to visit the Coaching Membership page.  All coaching memberships are customized to each client's unique needs. So you will have to contact John or his team to secure a coaching membership for your golfer.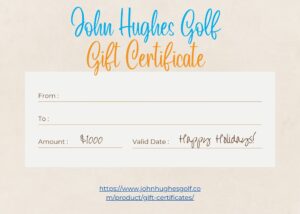 Can't figure out what to get your special golfer, but you know they want to improve their golf game?  Then why not a gift certificate they can use towards any golf coaching program offered by John Hughes Golf?  The dollar amount you purchase can be used towards an Orlando Golf School, a Custom Coaching Program, or a Coaching Membership Program.  Your golfer gets to choose the program that is best for them.
Virtual Golf Coaching
Can't make it to McLemore or Orlando?  No worries! Our 2023 Holiday Gift Guide is full of ways to receive world class golf coaching from anywhere in the world
Your special golfer can improve their golf skills from right where they are!  And never leave their easy chair. Virtual Golf Coaching is a great and affordable alternative to actually taking a lesson in person. And can supplement actual face to face coaching when your golfer has had to travel to a destination to experience great coaching.  Instant Golf Improvement is our answer to virtual coaching.  And is provided for 1-year to all golf school, golf experience, and golf membership clientele.  Why not purchase a 1-year subscription of virtual golf coaching for your golfer? Your golfer will also have access to a full library of swing tips, drills, and exercises as well as participate in live streaming clinics that only members can attend. Find out more about Instant Golf Improvement by clicking here.

SportsBox.ai
Want to see your swing in 3D?  Want to realize improvement and quantify it using 3D? Look no further than SportsBox.ai. Using a video of your swing, SportsBox.ai can convert your video into an accurate 3 dimensional avatar that measures over 16 different swing parameters.  You can use SportsBox.ai as a practice tool, by setting goals, and by setting goals and tracking your progress. You can also use SportsBox.ai to receive virtual coaching with John by sharing your account information with him remotely.  John can analyze your swing and data and make suggestions as well as provide drills and feedback.
Look for a 12-Days of Gift Giving Offer to subscribe to SportsBox.ai this holiday season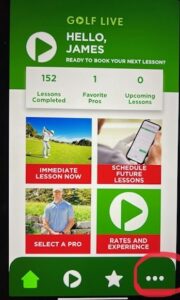 Golf Live App
Golf Live is a virtual lesson worth taking! Imagine a virtual meeting that can provide you a recorded playback of the swing you just took, in slow motion, with graphics and annotations that allow you and John an opportunity to diagnosis your swing flaws and immediately go into a learning/improvement session. That is what Golf Live provides John's clients around the world.  John schedules new clients through Golf Live weekly. As well as using the platform to keep in touch with and continually work with clients who live half way around the world. For more information about Golf Live and the virtual lesson packages John offers using Golf Live, Click Here.
Golf Live will be one of the featured services during our 12-Days of Gift Giving. Be sure to purchase your virtual golf lesson with John using Golf Live and get into his schedule before it is full.
Golf Tech as a Holiday Gift
More than any other time in history, Golf Technology is influencing young and old.  Whether you are looking to build a home simulator. Or just need something to assist you when practicing, our 2023 Holiday Gift Guide has plenty of golf technology to choose from.
The absolute best personal launch monitor is now that much better!  Fusion tracking is now added to FlightScope's Mevo+, providing improved tracking both indoors and out.  And with the Pro Package Add-on, your golfer can receive 28 data points to assist them to improve their golf skills. And the Mevo= can also serve as your golfer's "golf simulator" when they connect Mevo+ to a projector in your garage, basement, or personal "golf cave."  Don't settle for anything less than Mevo+ if your golfer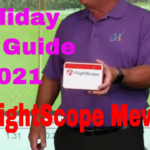 is looking for more information and entertainment from their technology devices. Use promo code "HolidayHughes" at checkout to receive an additional 10% off your purchase and free shipping! Click on the video thumbnail to the right to learn more!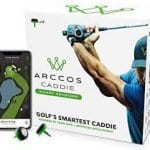 Arccos is the preferred statistics analysis platform of John Hughes Golf.  It collects statistics as your golfer is playing, automatically!  Statistics can help your golfer's practice habits more efficient by actually showing real statistics of their strength and weaknesses. So they can spend more time improving the weaknesses and maintaining their strengths. requires a basic understanding of their skill strengths as well as the areas of their golf game they can improve to make the biggest difference.  Statistics provide any golfer that information.  Arccos provides the most automated and comprehensive statistics platform available. With the purchase of Arccos comes a 1-year subscription to have John analyze your golfer's statistics and make suggestions for improvement.

Again this year I am able to offer an opportunity for you to subscribe to the last publication in the golf industry solely devoted to instruction content, Golf Tips Magazine.  I'm proud to be one of the publications Top 25 Instructors.  This year, I was able to get you 3 different options to choose from. The first is a 1-year, 6 printed issues delivered to your door for $9.99 US, $19.99 Canadian, and $24.99 International.  The second is a 1-year digital subscription of 6-issues for only $4.99 for everywhere in the world.  And the 3rd option is a 2-year 12 issue digital subscription for $7.99 global rate.  All you have to do is CLICK HERE and enter promo code "HughesGolf" at checkout to receive this offer.  I hope you do subscribe so you never miss an issue and never miss by "Milestones" column within each issue.
Swing Aids
Swing Aids come in various types for different uses and improvements.  And the swing aid market can be very confusing.  Our 2023 Holiday Gift Guide for Golfers takes the confusion out of the decision and let's you know exactly what each swing aid can assist your golfer with improving.  And offers holiday discounting when you purchase through our store!

Used to Improve – Club Head Speed, Swing Coordination, Add Distance to All Clubs
The SuperSpeed Golf Training System is the perfect way for your special golfer to add up to 30 more yards to their drives.  A complimentary online video instruction series shows your golfer how to make this happen as well as how often they should use the system. In 4-6 weeks, don't be surprised if your golfer is longer off the tee. Click here for more details and to order SuperSpeed for your golfer.
Used to Improve – Club Head Speed, Swing Coordination, Add Distance to All Clubs
This is a new product worth its weight in distance.  Designed by a world-renown biomechanist, TheStack System scientifically improves your golfer's distances using real data of their swing as well as pinpointing the areas of their swing to work on.  An accompanying mobile app allows your golfer to chart their progress and learn more about how to gain distance off the tee.  This is a must have for serious golfers looking for serious distance improvement.  Visit TheStack System page within my web store for more details and to purchase The Stack for your special golfer.
Used to Improve – Flexibility, Fitness, Coordination of Swing, Club Head Speed, Balance
The GolfForever Swing Trainer golf training aid is the ultimate golf training tool that combines fitness and golf to increase your mobility, balance and speed – safely.  As an added holiday bonus, when you purchase the GolfForever Swing Trainer you'll receive a free 3-Month Subscription to GOLFFOREVER, including full access to the GOLFFOREVER app and GOLFFOREVER's customized daily golf fitness program.

Used to Improve – Eliminating the "Chicken Wing", Swing Extension, Upper and Lower Body Sequencing, Low Point of Swing Consistency
The Tour Striker Smart Ball is s simple and effective device to connect the arms to your upper body movement throughout your swing. Gaining consistency with a golfer's swing bottom, arm width and extension, and in turn improving ball contact, IMPACT! Better Impact means lower scores.  Simple to use and put away in a golfer's bag, making it easier for your golfer to use each time they practice.  Comes with suggested drills for both the course and the home.  CLICK HERE to purchase a Tour Striker Smart Ball for your Golfer this Holiday Season!
Golf Clubs
What is the the one big thing all golfers want for the holidays? New Clubs!  That is why our 2023 Holiday Gift Guide features a couple awesome suggestions.
Callaway Paradym Driver
This driver is without a doubt the best driver Callaway has ever offered. It's brand new design allows for adjustable weighting to either side of the club to influence ball flight. As well as features brand new Cup Face design as well as Jailbreak design, providing optimal ball speed for any golfer. Limited quantities remain of this great driver. And when you order here, it will be drop shipped to your door in time to wrap for the holidays.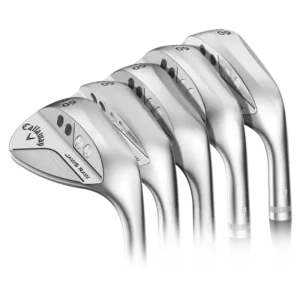 Callaway Raw Face Chrome Wedges
Arguably the single most important clubs in any golfer's bag are the wedges, used to hit more greens, get up and down, and provide controllable spin when needed. And if your golfer's wedge grooves are wearing thin, no time than the present to replace the wedges with the world's best, Callaway Raw Face Chrome Wedges. Choose from various loft and bounce combinations to fill your golfer's bag with the set of wedges they need. Click Here to purchase. We'll drop ship to your door in time to wrap and present.
Collectables

Russell Kirk Photography
Again for 2023, Russell Kirk one-of-a-kind golf portraits are available. Russell is a great friend who has a keen eye for the beauty of any golf hole. His actual photo imagery of St. Andrews, Royal Lytham and St. Annes, as well as other golf courses from around the world could be a great center piece of conversation anywhere in your home or office. Chances are Russell has photographed your favorite course too. Order your custom signed print at least 2 weeks before the day you want to give this gift to your favorite golfer.
We hope you find our 2023 Holiday Gift Guide suggestions useful. And you take advantage of some of the savings offered during our 12-Days of Holiday Gift Giving social media campaign.  If what we suggest is not exactly what you are looking for, then we suggest visiting our website store by
clicking here
.