Orlando Golf Schools
A Great Way to Improve Your Golf Skills
A commonly asked question is "Why should I attend Golf Schools in Orlando?"
The Answer – Why not attend a Golf School in Orlando and improve your golf skills over a 2 or more day vacation golf school, in arguably the world's best vacation destination?
At John Hughes Golf, an Orlando Golf School is typically 1, 2, 3, or more consecutive days of golf, and golf coaching. The concept of each day is to maximize your time at the practice facility and on the golf course, so you can improve your skills and lower your scores. We'll establish a complete plan that easily pin points areas of your game that you can realize immediate improvement.
At John Hughes Golf, your Orlando Golf School is customized to your specific needs. We do not believe in cookie-cutter methods, pre-scheduled dates, or make any claims of how much you'll improve. You tell us what you want to work on, when you want to schedule your Vacation Golf School in Orlando, and where you want to stay. And we'll deliver Customized Coaching before, during, and after your golf instruction experience.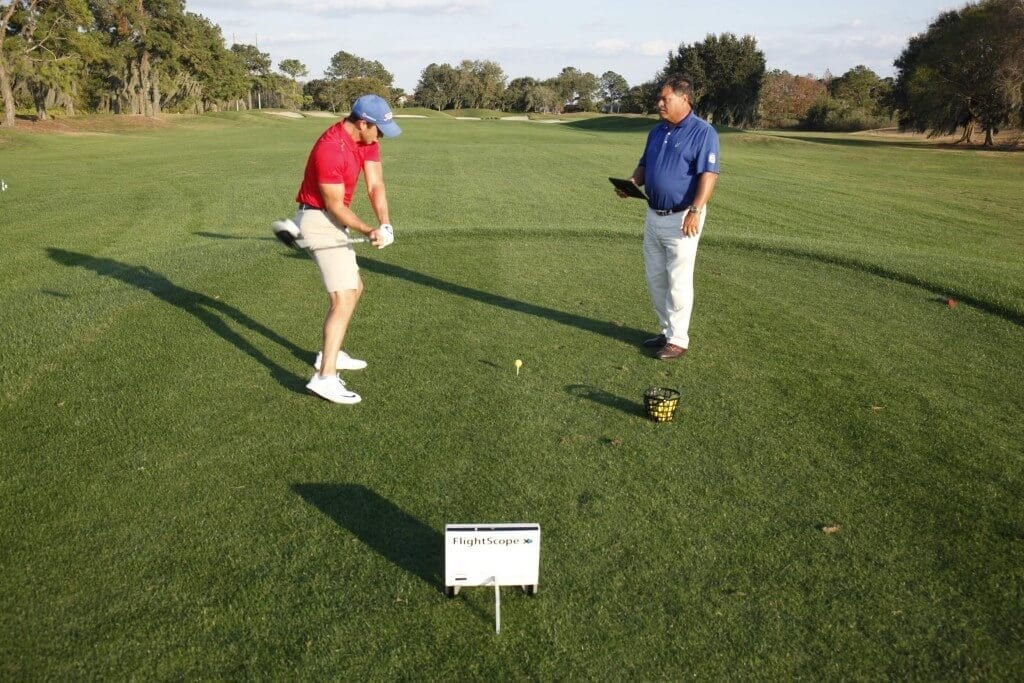 Orlando Golf Schools
Flexible Formats You can Choose to Fit Your Needs

No matter what format you choose, you will experience and receive a Customized Improvement Plan that fits your individual goals.
Full-Day (6-Hours plus Lunch)
Half-Day
Individual 1:1
1, 2, 3, or More Days
Custom Scheduling – You Pick the Dates that Fit Your Schedule

What You Can Expect From A
John Hughes Golf School Experience
During your Orlando Golf School experience with me, you should expect to realize improvement quickly and easily. But that can not happen if we do not:
Review your intended improvement goals to insure the goals are realistic;
Evaluate your current equipment, insuring the tools you're using are right for you;
Test your current skills creating a baseline of where you begin your improvement;
Insure you are capable of reaching your goals.
This is why you'll receive a Player Profile prior to your arrival, asking for details of your skills as well as your improvement goals. Upon arrival to your Orlando Golf School, we'll review your profile, evaluate your current clubs to insure they are the right tools for you, as well as bench mark your current skills and abilities using a FlightScope, BodiTrak, HackMotion, BlastMotion, Video Analysis, and other technology. With all this information, we'll determine the most important focus areas of your game that you can realize immediate, as well as sustainable improvement.
Included within any Orlando Golf School Vacation
Skills Evaluation – Bench Marking Objectively Using FlightScope, Video Analysis, and other technologies
Equipment Evaluation – Let's Make Sure the Tools You're Using are Fit You
Full Swing Improvement – Increased Your Accuracy and Length
Short Game Improvement – Improve your Putting, Chipping, Pitching, Greenside Bunker Shots
9-Holes of On-Course Coaching (Full-Day Programs Only) – Learn to Play Smarter with Your Current Skills
Video Analysis and Instant Take-Home Video Lessons – Video Analysis of All Skill Improvement Aspects of Your Experience and Archived for You within our Customized Video Vault
Follow-Up Coaching through the video app, text, email, or phone for 30-Days after completion of your Golf School – a Virtual Coaching Subscription is Available after 30-Days
Customized Dates – You Pick the Days You want to Schedule Your Golf School in Orlando
Our Orlando Golf School Location
Falcon's Fire Golf Club has served as our host facility for 8+ years.  The 18-hole Rees Jones Championship design can be as easy or as difficult as you'd like to play the course.  And its location is convenient to the Orlando International Airport, as well as the activities and attractions that make Orlando a top destination.  CLICK HERE for more information about Falcon's Fire Golf Club.
Orlando Golf School Rates
Rates for Golf Schools in Orlando vary based upon the Season as well as Your Choice of Options/Formats
2021 In-Season Rates (January 15 – May 15)
1-to-1 Full-Day Golf Schools start at $799 per Day
1-to-1 Half-Day Golf School Rates start at $499 per Day
Multiple Day/Multiple Person Discounts Available along with Customized Ala Carte Amenities
Custom Accommodations Quotes are Available through My Hotel Partners
For more information or to schedule your Orlando Golf School contact:
Need More Information?
Provide your questions or comments and John will personally contact you.