This past June, me, my wife, and two of my regular clients enjoyed "Life Above the Clouds" at McLemore. It was an absolute wonderful experience for us all. The service could not have been any better. The food was spectacular. And the scenery was better than described. The McLemore Heritage golf course did not disappoint either, despite its main irrigation pump being repaired while we were there. It's the first time in a long time that I've visited a golf course facility where everything promised, and more, was delivered! Those 12-days went so well for us all that McLemore invited me back this Fall. And I'd like to invite you to join me there for a Fall Golf School Retreat that will feature the changing colors of the trees, fantastic weather, and your ability to experience one of the best kept secrets in American golf!
The Dates
Due to a heavy month of previously scheduled events at McLemore, our Fall Golf School Retreat dates are extremely limited. You can visit me at McLemore, October 7 through 17, 2022. All dates and programs are customizable within our date range. You can experience a Fall Golf School Retreat as a 1-to-1 or 2-to-1 experience. Or as many as 4-to-1.  And you can choose from 1-day to all 10-days if you'd like.
No matter the dates or size of your customized Fall Golf School retreat, it's imperative you secure your reservation sooner than later. These dates will sell out fast. Reservations are confirmed on a first come, first serve basis and require payment in full of all fees.
What to Expect at McLemore
McLemore is currently a private facility, with members and guests only being to access the golf course.  Over the next 24-months, McLemore will transform into a private resort.  Featured will be its new Bill Bergin/Rees Jones golf course, The Outpost.  I took a personal tour of the course with Vice President of Golf Operations and my great friend, Charlie Rymer.  When complete in December of 2023, it will provide an even better vista of McLemore Cove and rank even higher than the Heritage Course does now.  McLemore will also feature The Cloudland, a Curio Collection by Hilton property.  I was able to see the structural outline of the hotel when visiting in June.  Honestly, there is no other hotel like it on the East Coast.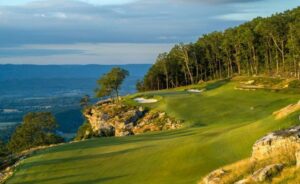 McLemore's Highlands course is currently ranked by Golf Digest Magazine as one of the Top 100 golf courses you can play. And its 18th hole is considered one of the Top 10 finishing holes in all the world, has ranked by Links Magazine.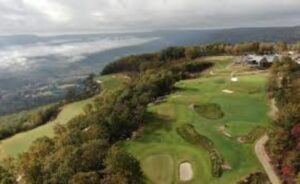 While experiencing a Fall Golf School Retreat with me, will utilize McLemore's well-appointed practice facilities each morning. Which includes The Cairn, a 6-hole short game course that allows you to test and hone your wedging, chipping, and putting skills. Afternoons, you'll experience 18-holes of on-course coaching with me. You learn to play every club in your bag while navigating the different lies and textures the award-winning design of Bill Bergin and Rees Jones provides us.
McLemore's Amenities
During your Fall Golf School Retreat, we'll have lunch each day at The Craig. It's an award-winning restaurant that features daily menu specials indigenous to the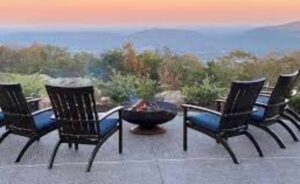 area. As well as a fantastic patio to enjoy a meal or cocktails overlooking the changing Fall colors of McLemore Cove.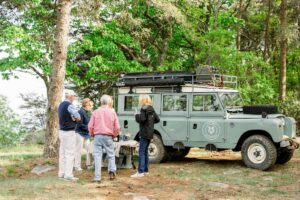 If you enjoy nature, there's plenty for you to do when not golfing. You can choose to walk the well-marked trails of McLemore on your own or with a guide.  You can also experience a safari-style guided tour of the entire McLemore property in their Land Rover Defender. The McLemore Sundowner Experience is a 2-hour guided tour of the unexplored corners of McLemore's property on Lookout Mountain. As well as their newly acquired land where the Outpost is being built.  All while enjoying a signature cocktail and hors d'oeuvres pit-stop at a scenic overlook.
Within a very short driving distance of McLemore are the Singing Sister Falls, protected wildlife sanctuaries, hidden caves, and cliff overlooks. The local area has an abundance of experiences to enjoy.
And if you really need some excitement, Chattanooga is a 35-minute drive from McLemore
Accommodations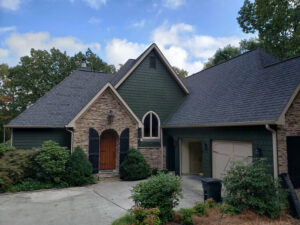 We highly recommend that you stay on property at McLemore in one of their luxurious and well-appointed rental villas. Why? Because of the convenience of staying on property as well as the serine surroundings of the property you'll experience. My wife and I stayed on property in one of the 3-bedroom condos.  What an incredible place! And the property manager was there to great us when we arrived!  Nightly, we were able to sit on on the patio and observe a brightly lit star-filled sky, unencumbered by city lights.
You can choose from a two- or three-bedroom condo. Or one of the rental homes available within their stay and play rental pool. The folks at McLemore are offering my client tell special rates for available rental openings. Due to the other events taking place, rental availability is expected to sell out quickly. To reserve your McLemore rental villa, please contact Jim Blalock, our on-property liaison, by clicking here.
If you miss the opportunity to stay on property, there are other options. There are private vacation rentals within a very short driving distance of McLemore. As well as various hotel choices in Chattanooga.
Act Fast and Secure Your Fall Golf School Retreat!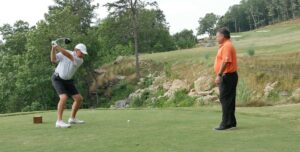 We anticipate all dates being sold out by the end of August. You should secure your reservation sooner than later. To reserve one of the pre-scheduled Fall golf school retreat dates, click this link. if you're wanting to customize your dates and the size of your group, please contact John directly. Call John at 407-852-8547. Or e-mail him at John@JohnHughesGolf.com.
We look forward to hosting you at McLemore this Fall, October 7-17, 2022. It will be a Fall golf school retreat that not only allows you to improve your golf skills. Your experience will be forever etched in your memory as what life above the clouds is all about.