Description
After a very successful June visit to McLemore Golf Course, John's invited back!  And you're invited too!  Here's another chance for you to experience world-class coaching at a Top 100 Golf Course, experiencing one of the Top 10 finishing holes in all the world. With the leaves turning colors and the temperatures perfect for great golf.  You need to schedule your Fall 2022 McLemore Golf Retreat right now!  Space is extremely limited and dates will sell out fast.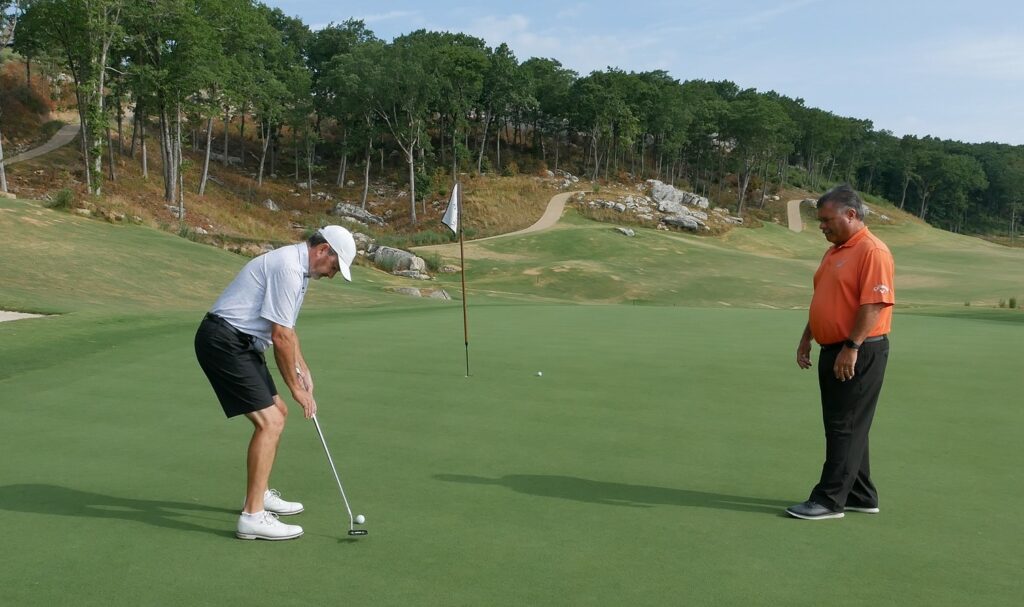 When is the Fall 2022 McLemore Golf Retreat?
October 7-17, 2022 is when you can experience a Fall Golf School Retreat at McLemore.  There's only 10-days to chose from to experience world-class coaching at one of the nation's best kept golf secrets.  McLemore is a private resort, accessible to members and invited guests only.
All programs and dates are customized for each client(s) on a first come, first served basis.  Choose from 1 to all 10-days of availability.  For your convenience, we've provided 1, 2, and 3-day options with up to 4 golfers within the drop down menu.  Please call John directly to purchase more than 3-days. Or, if you need to customize your dates in a specific way.  Available dates for the Fall of 2022 McLemore Golf School Retreats are below in blue.  Dates sold out dates are striked-through in black.
Friday, October 7, 2022 | Saturday, October 8, 2022 | Sunday, October 9, 2022 | Monday, October 10, 2022 | Tuesday, October 11, 2022 |

Wednesday, October 12, 2022 | Thursday, October 13, 2022 | Friday, October 14, 2022 | Saturday, October 15, 2022 | Sunday, October 16, 2022 | Monday, October 17, 2022
Your golf school retreat is best experienced as a 1-to-1 or 2-to-1 program with John.  Group of 4 people? No problem. You can opt to include up to 4 golfers within a 2022 Fall Golf Retreat at McLemore. All reservations are confirmed on a first come, first serve basis.  Your reservation will require full payment of fees to confirm your dates/reservation.
What's Included Within my Experience?
Each day of your Fall 2022 McLemore Golf Retreat, you'll experience a Full-Day Golf School with instruction and skill improvement coaching in the morning. Lunch at the award winning restaurant "The Creag" provides spectacular views of McLemore Cove each day of your golf retreat. Following lunch, John will accompany you to McLemore's award-winning Highlands Course for 18-holes of on-course coaching each afternoon.
The Rees Jones and Bill Bergin design sits atop a plateau of Lookout Mountain, Georgia. It's unique location provides stunning vistas of McLemore Cove and Pigeon Mountain.  The course features canyon and parkland style golf holes that are unique all to themselves. McLemore is a special golf experience.  And with Fall colors are at their peak, the vistas McLemore provides brings even more excitement to your experience.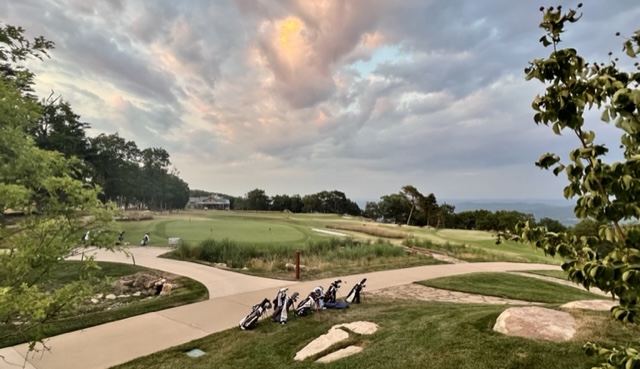 We'll also use "The Cairn", McLemore's unique short course experience to hone your short game and wedge skills. You can add additional golf rounds to your experiences as well.
And upon your arrival, you'll receive a customized VIP Gift Bag of gear and accessories commemorating your experience.
Where Should I Stay?
We advise you stay on property at McLemore to experience the tranquil beauty each sunset and evening brings.  Star lit night skies and the sounds of nature provide a fantastic backdrop to relax each evening after your day on the golf course. All stay and play properties at McLemore are luxurious, extremely well-kept, and happily managed by the best team of caretakers you'll find anywhere.  Due to high demand for Fall Color viewing, availability of McLemore's stay and play accommodations is limited.
For a full list of properties, availability, rates, as well as to secure a villa rental at McLemore please click here. Or email our own liaison on property at McLemore directly, Jim Blalock
There are many vacation rental options available within 5-10 miles of McLemore.  But please be careful. Previous clients of John Hughes Golf visiting McLemore experienced mixed results with their off-property rentals.
In addition, there's multiple hotel choices available in Chattanooga, TN, a 30-35 minute drive from McLemore.
Reserve Your Fall 2022 McLemore Golf Retreat NOW!
As you can see, this is a great opportunity for you to experience world-class coaching at a world-class golf course.  We expect the entire week to sell out fast.  So you'll want to reserve your Golf Retreat as soon as possible.choose and the total room nights you desire.  Call John should you have any questions or need additional information, or need to ask for a special date request.