Virtual coaching, like traditional "in-person" coaching, is aimed at helping individuals achieve personal or professional goals. A shift to a remote coaching platform doesn't diminish the effectiveness of coaching. In fact, it opens all new opportunities and benefits.
I'd like to provide you with a brief history of my experience as a virtual coach. As well as share some good news that all current and future clients can experience in the world of virtual coaching.
John's History with Virtual Coaching
In 2015, I was introduced to a groundbreaking software platform called MobiCoach. MobiCoach was ahead of its time, providing coaches with an opportunity to connect with their clients remotely.  I gave quite a few lessons to clients around the world. It was an enjoyable experience for me the clients. But it was short-lived due to the company not being on solid financial ground.
Necessity is the Mother of All Invention
The pandemic showed us in 2020 how remote meetings can continue progress. Zoom, Google Meet, and FaceTime were all being used to the fullest capacity.  But no live streaming platform had the capability of recording part of the meeting and playing that portion of the meeting back, within the same meeting.  And no platform had drawing and annotation tools to diagram something live, within the meeting.
Then came the Golf Live App in 2022. To a smattering of applause, Golf Live has picked up where MobiCoach left off.  And is revolutionizing the world of coaching remotely.  Its platform is more robust. It can record and play back within a virtual coaching session. Golf Live also allows a client to schedule a session within the app, seamlessly. As well as find a coach and pay for a remote coaching session within the app.
The Golf Live App and What It Has Accomplished So Far
I've chosen to jump on board with the Golf Live App, and I'm all in. For the past few months, I have coached numerous clients. Some in their home simulators. And a couple at their practice facilities.  Some in the US. And others around the world.  It's a fun app for me to use and continue the coaching progress I am making with my clients.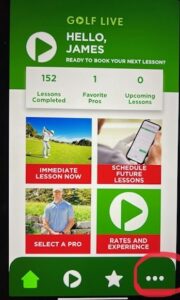 The results of using the Golf Live App are absolute and positive. An example is coaching Elisey Antropenko in person is awesome.  But coaching him from his golf facility outside of Moscow, Russia has been equally as awesome.  Remote coaching has paid big dividends to Elisey, successfully defending his Russian Junior National Championship in August of 2023, for a 3rd time! And winning the ARG President's Cup.
Elisey is just one example of how receiving remote coaching can be productive as well as beneficial. Which is why I am now including "Virtual Coaching" within all Custom Coaching Programs as well as adding it as an integral part of Coaching Memberships.
Why Virtual Coaching?
Remote Coaching offers you and I many of the same benefits as a traditional "in-person" coaching session. But with the added flexibility. And the convenience of being able to conduct sessions from anywhere in the world.
Here are some of the values of virtual coaching:
Convenience – As mentioned before, remote coaching can be done from anywhere. All you need is an internet connection, via Wi-Fi or cellular data, and you're ready to participate in a coaching session. No need to find a practice area or golf course. And no need to schedule a session during daylight hours.  The convenience of your garage or your backyard will work just as well as being at the practice facility.
Flexibility – You can schedule a virtual coaching session within your schedule, day or night.
Accessibility – Remote coaching breaks down geographical barriers. You can schedule a coaching session with John from anywhere in the world. With my schedule possibly including a lot more travel in the future, remote coaching is now a viable option for all.
Affordability – Because there is no need to travel, no need to pay for a golf course, and no need to set a lot of equipment up, virtual coaching is a more affordable option than in-person coaching. I've created several instant ways for existing clients to experience virtual coaching. And 4 remote coaching programs new clients can purchase.
Effectiveness – Remote coaching can be just as effective as traditional in-person coaching. In fact, a study by the International Coaching Federation found that there was no significant difference in the effectiveness of virtual and in-person coaching.
Record-Keeping and Progress Tracking – Within the Golf Live App, you have access to all your past virtual coaching sessions. As well as the videos recorded within the app sent to you after each session. This allows you to keep track of your progress.
Continuity and Consistency – Virtual coaching will allow you to continue the progress you're making as well as continue to schedule regular coaching sessions with me. Even when both your schedule and his do not mesh due to travel, sickness, bad weather, or scheduling restrictions during daylight hours.
Customization – What I am known for, customizing the improvement plan and experience for each individual client. Virtual coaching, with its wide range of tools and resources, will continue to allow me the opportunity to customize your skill improvement journey.
Virtual Coaching with John Hughes Golf
If you've ever considered virtual coaching, now is the time to try. And here is how John is implementing remote coaching throughout his entire coaching practice.
Virtual Coaching for Existing Clientele
Current Clients – I define "current clients" as those clients who have remaining hours of in-person coaching to schedule.  If you're a current client, your coaching hours are now extended by an hour.  I'm providing you 1-hour of virtual coaching, using the Golf Live App. Like in person scheduling, contact John to coordinate schedules and get into his calendar. Download the app, create an account, and you're ready to take part in virtual coaching.
Regular Clients – I define "regular clients" as clients who make a regular attempt to see me on an on-going basis. Some have hours remaining. And some pay as you go.  You too have 1 hour of virtual coaching on me!
Recent Clients – If I've coached you in the past 2 years, and you're thinking about renewing a coaching program with me, you're in luck.  You just earned a free 30-minute remote coaching session.  You have until December 31, 2023, to take advantage of this offer. Contact me to schedule your 30-minutes of remote coaching with me.
New Clients – Beginning in October, new clients of John Hughes Golf who commit to at least a 5-hour Custom Coaching Program will receive remote golf coaching time. Virtual Coaching time for the following programs is:
5-Hours of Custom Coaching – 30-minutes of Virtual Coaching
10-Hours of Custom Coaching – 1-hour of Virtual Coaching
Coaching Memberships – 2-4 hours of Virtual Coaching based upon Membership
Half-Day of Golf School – 30-minutes of Virtual Coaching*
Full-Day of Golf School – 30-minutes of Virtual Coaching*
(*) – Golf School students have 30-days from the last day of their golf school to schedule Virtual Coaching.
But I'm not Currently a Client of John Hughes Golf
If you're not already a client of mine and you're looking for a convenient, flexible, and effective way to receive coaching from me, virtual coaching is a great option to consider.
You can now purchase one of 4 Virtual Coaching Programs from me.  For more information, visit our Virtual Coaching page.
A Side Note to those Purchasing a Virtual Coaching Program – It's important to note that the effectiveness of your virtual coaching program, like any in-person coaching program, depends upon your commitment level. Remote golf coaching offers many advantages. Remote coaching could fit you well right now. But with any self-improvement program you begin, it is only as good as your commitment level to yourself. When you make your commitment and choose me as your coach, you have my commitment. I'll do everything possible to assist you with improving your golf skills.