Summer Mini Golf Schools
Beating the Heat of Orlando Summers Just Got Easier
Although summer in Central Florida can bring humid temperatures as well as afternoon showers, the combination of the 2 affords you the opportunity to take advantage of an offer and experience only the heat can make me think of, Summer Mini Golf Schools, with quite a few perks attached.
What are Summer Mini Golf Schools?
Summer Mini Golf Schools is in theory a "half-day" of instruction, a program I normally don't offer. Summer Mini Golf Schools provide you a chance for an abbreviated amount of time for instruction on the range and on the course while avoiding the peak of afternoon heat and rain in Central Florida.
Let's start your experience at Falcon's Fire Golf Club early, say around 8AM on the range.  Doing so allows you to miss the heat later in the afternoon.  We'll work together for 2-hours there creating a plan of skill improvement you can take home, feeling confident and motivated to execute.  That's not enough time on the range to break a sweat, but just the right amount of practice time to get things done..
Immediately following your practice time, we'll hit the course for an hour of on-course instruction, finding ways for you to play smarter with the current skills you possess.  After that hour, you'll have the ability to play all 18-holes and should complete the round before any chance of rain.  And there'll be a beverage waiting for you when get back to the clubhouse.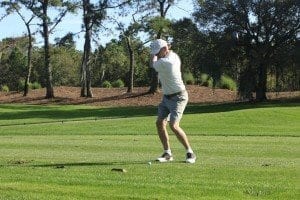 Now that's a nice package.
What?  That's not enough for you to say "YES" to a Summer Mini Golf Schools experience?  
What if I gave you the choice of saving a few dollars from what I would normally charge for a program like this, or choose a useful golf technology that could assist you with your improvement?
That's right.  A one-to-one program like this would normally cost $550 per day during the peak of golf season in Orlando.  From now until September 5, I'm pricing it at $425 per day, instantly saving you $125. And if you book and pay in full for a Summer Mini Golf School during the month of July, I'll knock another $100 off the daily price when you commit to 2 or more days. If you don't mind paying $425 a day, then I'll give you the choice of going home with either a Game Golf Live or Blast Motion Putting system.
Oh, I forgot one other thing.  If you schedule and attend a 2 or more day Summer Mini Golf Schools program before September 5, 2017, you are automatically entered into a drawing to win the new FlightScope Mevo© Personal Radar, a ground breaking technology you can use on the range or on the course.
Now do You want to Attend Summer Mini Golf Schools?
If so, be sure to email me (John@JohnHughesGolf.com) or call me (407-852-8547) with your desired dates to insure availability, and to secure your reservation for a Summer Mini Golf School.  This promotion ends September 5, so hurry while the heat is making my mind do crazy things.