Another banner month for clients of John Hughes Golf. Our May 2023 Client Accomplishments highlight world achievements, young and old, and our clients' ability to be resilient.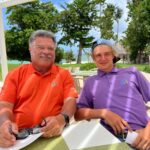 Elisey Antropenko, Moscow, Russia
Finished 9th at the Golf Mad Junior Open in Istanbul, Turkey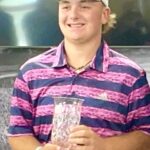 Aaron DeWitt, Winter Haven, FL
Finished 17th at the AJGA UNIQLO / Adam Scott Junior Championship

Atley Gabriel –  Claremont, NC
Concluded his high school golf career in style.  Atley shot -2 to finish runner up in the NCHS 2A West Regional to advance to the NCHS State Championships. At the NC high School 2A State Championships, Atley finished T9 finish in the individual competitions of the NC 2A State High School Championship. While also leading his Bandys HS team to a very respectable 3rd place finish in the State Championships.

Reagan Grimm, Orlando, FL
Is ranked #1 in her age division of the UnderArmor Junior Tour in Orlando. And has qualified to play in the Tour's Summer National Championships June 22-23.  Reagan also  finished 4th in the USKids Orlando Spring Championships.

Lev Grinberg – Rinkven, Belgium
Currently ranked 214 in the WAGR rankings, played the DP World Tour's Soudal Open for a 2nd straight year, missing the cut by 1 stroke.  On the same course the following week, he shot the course record 64, winning the club championship.

Dr. Ron Hill, Houston, TX
Shot his career best 80 at his home course!

Gaige Lewis, Springfield, MO
Shot -5 to claim medalist honors at the Missouri HS District Championships. And finished 27th as an individual in the Class 5A Missouri High School State Championships

Michelle Lu – Orlando, FL
Finished 2nd at the FJT event at Harbor Hills
Tony Prensa – St. Cloud, FL
Finished  T3 at the Golfweek Am Tour event at Championsgate Resort's National Course
If you're a John Hughes Golf client and we missed adding your achievements to the May 2023 Client Accomplishments post, please let us know what you achieved!  We'll add it to tour June 2023 Client Achievements post. It doesn't matter how large or small the accomplishment. Contact John at john@johnhughesgolf.com to let him know what you accomplished. Or contact John if you want to learn more about how you can experience a golf accomplishment you've want to achieve.  We're committed to improving your golf skills and assisting you to achieve your Client Accomplishments.
Do you want to realize one of your most important golf accomplishments?  Look no further than John Hughes, an award winning and nationally ranked golf coach.