How long does it take to make improvements in your golf game?  Ask Declan Ward.
Declan became a client of John Hughes Golf over 2+ years ago at the age of 9.  Declan's Grandfather, Wayne Andrews, introduced Declan to golf and assisted Declan to a point where he could not help anymore.  Wayne contacted me during the holiday break of 2018 to schedule a coaching session with me.
When Declan arrived and I asked what his goal was for the coaching session, his reply was, "to hit the ball straighter and longer so I can keep up with Pop."  Sound like a familiar goal of any golfer?
How Long Does it Take to Improve with Raw Talent?
Declan has raw talent, something not many athletes have within their chosen sport.  Declan's eye/hand/body coordination is uncommonly great.
And all Declan could talk about was how far his favorite touring professionals hit the golf ball, not how accurate.  As many 9-year old's experience, repeating success like the pros is hard to obtain, even with raw talent.  But it's fun to think you can obtain it if you try.  So, try we did.
Making skill improvement fun is important for anyone, especially when your 9-years old.  After showing Declan video of his swing and where he was aiming, improvement instantly began to happen. Within 10 shots, aimed at a specific target, Declan was hitting straighter, more accurate shots.  His inaccurate curving shots became straighter, adding more distance without any added effort.
It was fun for me to see the smile on Declan's face, and the confidence within him building.  After an hour of coaching, Declan knew exactly what to do to make his shots travel further and straighter.
How Long Does it Take to Develop Your Commitment?
It was fun and rewarding to coach Declan.  And it was even more rewarding to assist Wayne.  When they both left to play golf, my thought was this was probably a "one and done" coaching session.  And the probability of assisting Declan again was slim at best.  One and done golf lessons in the local area are common given the nature of tourism within the greater Orlando area.
A couple days after Declan's coaching session, Wayne called me.  Wayne wanted to schedule another coaching session with me when they returned to Orlando in a couple months.  We actually scheduled multiple 1-hour coaching sessions for late March of 2019.  As we completed those coaching sessions, Wayne added more during the school breaks.
It's now a regular occurrence for Wayne to schedule 2 to 3-hour coaching sessions during every Orlando visit, normally centered around Declan's school breaks.  It's been an honor and an opportunity I appreciate, coaching Declan past the enjoyment stage of his love for golf and into what we're now calling his competitive stage.
What Does it Take to Be Good?
In the Fall of 2019, Declan informed me and Wayne he wanted to play competitive tournament golf.
In 10-months, Declan found improvement only to be good enough to reach his initial goal.  He now wanted to play against friends as well as others across his region to see just how good he could be.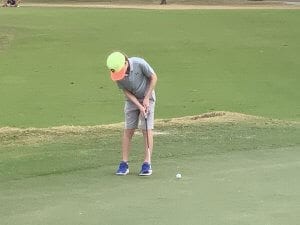 Declan was showing at the time his genuine readiness to make a bigger commitment to golf and the detailed practice time it took to be good at the sport.  But cold winter weather of Rhode Island is and continues to be his worst enemy.  Wayne, who lives 5-minutes from Declan across the border in Massachusetts, had empty space in a warehouse he owns.  Using resources at hand, Wayne crafted a hitting bay for Declan.  And with additional coaching sessions, the 3 of us crafted a practice and improvement plan that Declan could execute even if the snow is too deep to play outdoors.
Over the past 2+ years, Declan has physically grown as a young man, and mentally grown as a golfer.  Declan's commitment to play competitively has lowered his scoring average from the low 100's to the low 80's.  He has broken 80 a couple times.  And Declan did well enough to place 1st or 2nd in local USKids Tournaments close to where he lives.  He did this all while staying safe from COVID.
How did he do it?  Commitment.  Commitment to what he knows will work for him.  And a commitment to work through adversity, no matter the conditions outside.  The commitment is genuine and not fostered by Wayne, Declan's Mother, or anyone else.
How Long Does it Take to Learn?
As we start 2021, Declan has a plan in place for the first 2+ months of the year that he can perform regardless of where he is, regardless of the weather, regardless of needing to quarantine.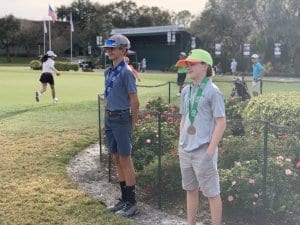 Declan played his first tournament of the year earlier this month, finishing a respectable 5th.  As we evaluated his tournament round, Declan was anxious to get started now, on his improvement plan.  But it was during the evaluation of his round that Declan supplied me, and possibly you, with an antidote we can all use and apply to anything we're committed to do.
Declan shared with me that even though he is now 11-years old, and has learned a lot about playing good golf, he still has a lot to learn.  I asked him how much more he thought he had to learn.
His answer, "I'm not sure, but I'll keep learning and having fun, because you can never learn everything there is about golf without having fun."
I smiled, gave Declan a fist pump, and told him he that 2021 he was ready to experience his best year of golf.
I think we can all learn 2 things from Declan:
That it takes commitment to be good at anything we aspire to succeed at or with. Without commitment, the item you're focusing upon may not be a priority.
That understanding you can never really master anything, but the process of mastery is an on-going journey. It's the journey that fuels us and prepares us for what lies ahead.
Remember What it Takes
How Long Does it Take to be Good at Golf?  To Make a Commitment to Anything? To Learn what is needed?
Remember the name Declan Ward the next time you play golf.  And keep his name handy the as you read through golf scores of the up-and-coming golfers we'll see on TV one day.
There's no doubt that with his commitment and process, we will read about him.  And he'll be a reminder to you of what it takes to be good at anything you aspire to be good at.