HOLIDAY GIFT IDEAS

 ONE WEEK REMAINS FOR YOU TO BUY THAT SPECIAL GOLFER IN YOUR LIFE
A WONDERFUL HOLIDAY GIFT IDEA FROM JOHN HUGHES GOLF!
Scotland 2015
July 2015 is not far away, and December of 2014 is a perfect time to purchase a one-of-a-kind golf experience to Scotland. Come with me and Joe Hallett, coach to the best female player in the world, Stacy Lewis, to the Kyntre Coast of Scotland to learn, play, and share a memorable experience.
Through the holidays, I am extending 10% off this excursion. Regularly $4995 per person, make a purchase before December 31 and the price is $4495.
Act fast – There are only 12 spaces available
Custom Coaching Sessions
Sometimes a single 1-hour golf lesson is simply not enough. This is why I created Custom Coaching Sessions.
Purchased in 5-hour blocks, Custom Coaching Sessions are a great way to improve your game at your pace, utilizing all the resources I have available. Use as little or as much time as you want, when you want. Or you can give a little of your time to a family member, business partner, or friend as a thank you gift.
Save 25% by using Code "COACH"
Gift Certificates
For the golfer who has everything, a Gift Certificate for Golf Instruction is a perfect gift. Chances are, your golfer who has everything has purchased every new club, swing aid, or other piece of equipment possible to improve their game, not realizing it is not the equipment, it is the user of that equipment that is preventing them from reaching their potential. Giving the gift of Golf Instruction is a wonderful way to say I love you and I want you to play your very best.
 Save 25% by using Code "GF25"
 MobiCoach Lessons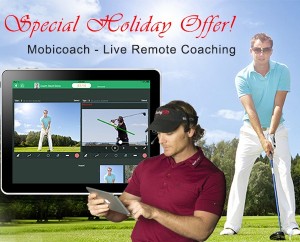 Purchase a 30-Minute LIVE video lesson with me through MobiCoach and receive 30-Minutes FREE
Use Code "c5bdd598" when purchasing your LIVE video lesson at