Can't make an appointment for us to meet but want to improve your game? Want to obtain long-term improvement but can't find the time to visit Orlando? No problem!  A Video Golf Lessons Subscription is the answer!
What is a Video Golf Lesson Subscription?
A Video Golf Lesson Subscription is a way for us to communicate from a distance to create an improvement plan that suits your individual needs. It utilizes video that you produce with your smartphone or tablet, making it easy and convenient to send and receive golf instruction.
There are 3 reasons why you should subscribe to take Video Golf Lesson:
Identify your strengths so you understand how your strengths as a golfer will help you improve

Understand your shot tendencies and the areas that you can improve the most in the least amount of time

Learn and follow what tips, drills, and exercises you can do easily, to achieve immediate results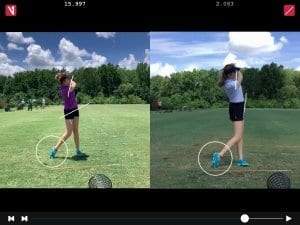 How Does a Video Golf Lesson Subscription Work?
1. CLICK HERE and choose which Video Golf Lesson Subscription Package you prefer;
2. Upload the V1Golf App to your mobile device;
3. Create an Account and start taking videos of your entire game;
4. Within the app, choose me from the drop down menu of academies and instructors;
5. When I receive notice you've uploaded your videos, I'll call you to discuss your improvement goals and what items of your game you want to improve the most;
6. After we speak, I guarantee you'll receive your first Video Golf Lesson within 24-hours.
Your Video Golf Lessons will include a voice over from me explaining what you are doing correct as well as what one thing, if you work hard on improving, will produce the best results for you. The end of the video will include notes, tips, drills, and exercises you can do in your home, your office, or at the golf course that will immediately improve your game.
Video Golf Lesson Subscriptions start at as little as $9.99/month and includes a membership to my Golf Video Tips Library, a private subscription page for members only.
Already have a V1 Golf Account and Need to Login?
Simply enter your account credentials below and you'll gain access to your personal account
Need More Information?
Provide your questions or comments and John will personally contact you.