Description
A Holiday Gift Like No Other in Golf
May 15-31, 2023 and June 6-18, 2023
Looking for a great holiday gift for the golfer in your life?  There's no other holiday gift you should consider for your special golfer than choosing and reserving a Half-Day McLemore Golf School Experience.
Are you looking for a holiday golf gift for yourself?  And want others to know that's what you want this holiday season? There's no need to look at any other golf holiday gift guide than a McLemore Golf School Experience.
Want to experience an award-winning, highly rated, and private golf facility? And experience world-class coaching and improvement?  Then you must purchase a McLemore Golf School Experience as a holiday gift this season. It's the gift that will keep giving beyond this year's holiday season.
Act fast while dates are available and holiday savings is in effect (5% to 15% off rates based upon program and availability). When the holiday season is passed, there is no more discounting of rates. You need to schedule your customized golf school vacation for this Spring at The McLemore, NOW!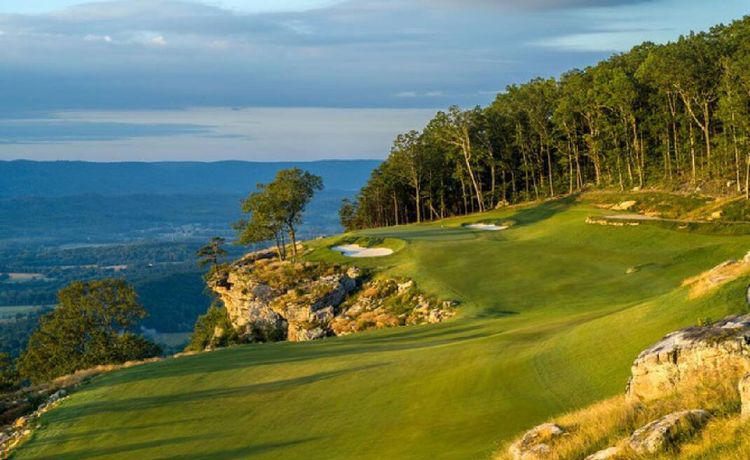 Why McLemore?
When choosing a McLemore Golf School Experience for your golfer this holiday season, you're choosing a special place for your golfer to experience a best-in-class golf improvement program.
McLemore is a private club, accessible to members and invited guests only. The award-winning Rees Jones and Bill Bergin designed Highlands Course sits atop a plateau of Lookout Mountain, Georgia. Its unique location provides stunning vistas of McLemore Cove and Pigeon Mountain.  The course features canyon, cliff, parkland, and highland style golf holes.  Each hole uniquely different while staying true to the overall design themes of accessible, fun, and challenging to all golfers.
McLemore is a special golf experience. As Spring transitions into Summer, its elevation provides significant temperature differences from the lower elevations close by. Making a Spring and Early Summer Golf School Experience comfortable and breathtaking.  May and June is also when McLemore's playing conditions are at their best.  And the later sunsets provide amble opportunity to get as much golf in before dark.
The Highlands Course ranks as a Top 100 Course by Golf Digest Magazine.  And the finishing hole is ranks as America's best and one of the World's Top Finishing Holes by Golf Links Magazine.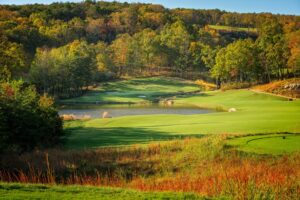 McLemore features a unique short game practice area called, The Cairn. It's a 6-hole short game course that will challenge your golfer's short game skills.  McLemore also features a ½ acre practice putting green, emulating the exact slopes and surfaces your golfer will face on the course.
Your golfer will also experience award winning dining at The Creag.  It's menu changes seasonally, and is open for breakfast, lunch, and dinner.  It's eastward facing patio provides breathtaking sunrises of McLemore Cove and Pigeon Mountain.  And the service provided to your golfer is second to none.
A Holiday Gift to visit and play McLemore is a great gift.  But adding a McLemore Golf School Experience to any visit is an over-the-top gift your golfer has never experienced. Only a handful of golfers have experienced this one-of-a-kind experience. And when you give the gift of a McLemore Golf School Experience to your golfer, they'll talk about their experience for a very long time.  It's a holiday gift that gives back long after opening the gift and experiencing it firsthand.
What Can Your Golfer Expect to Experience at a Half-Day McLemore Golf School Experience?
As the facility prepares to transform into a private resort, McLemore has invited John Hughes Golf to provide world-class golf improvement programs. This is what makes this holiday gift so special. A world-class golf course facility combined with world-class golf skill coaching that can't be found anywhere else on the East Coast.
Half-Day Experiences
When choosing a Half-Day McLemore Golf School Experience, your golfer will enjoy 3-hours of coaching in the morning or afternoon. Your golfer will experience world-class coaching utilizing McLemore's well-appointed practice area as well as it's expansive practice green, and The Cairn, its 6-hole short game skills area. They'll also enjoy a refreshing lunch at The Creag.  And an unaccompanied 18-hole round of golf on McLemore's Award-Winning Highlands Course.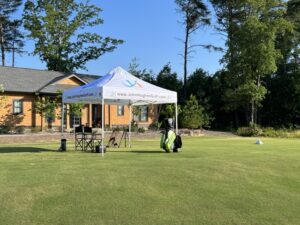 Customized Scheduling
You can choose the exact dates of your golfer's holiday gift.  Choose as many days as you wish.  Included with each Full-Day program you secure is accommodations on property at McLemore.
Customized Coaching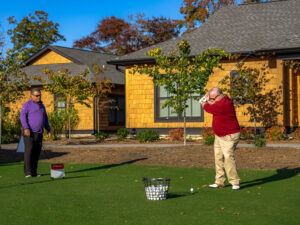 While experiencing a half-day golf school at McLemore, your golfer can choose to improve their entire game. Or focus upon 1 or 2 specific aspects of their game that needs the most attention.  Included within each coaching session is use of FlightScope Ball Flight Technology, V1Pro Video Analysis, BodiTrak Ground Force Technology, HackMotion, FocusBand, SportsBox.ai, and other technologies as needed to enhance your golfer's improvement process and experience.  All 1-year subscriptions to these technologies are included within the cost of a McLemore Golf School Experience.
Individual or Group Golf Schools
Choose to have your special golfer enjoy a Half-Day McLemore Golf School Experience as a 1-to1 coaching program. Or come along with your golfer. Or invite a friend, relative, or fellow golfer to join in the fun and pleasure McLemore provides. A player profile is provided to your golfer prior to their arrival.  This guarantees that all programs are customized to each golfer's unique improvement needs.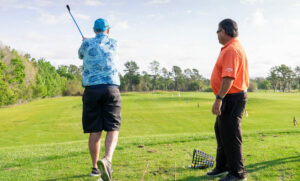 Or, choose to have your golfer invite a group of 3 or more golfer with them to experience a great holiday gift.  And a fantastic golf course. World-class instruction at America's best kept secret of golf is tailored to each group's unique needs and agenda. This holiday gift can also double as a themed team building environment. Anything is possible for your group at McLemore.
What's Included in a Half-Day McLemore Golf School Experience?
When choosing a McLemore Golf School Experience for your golfer as a holiday gift, keep in mind what is included within each experience:
Half-Day McLemore Golf School Experience

3-Hours of Customized Coaching utilizing McLemore's well-appointed practice facilities, including the Cairn and its massive practice green.
Lunch at The Creag
18-Holes of unaccompanied golf at McLemore's Highlands Course
Half-Day VIP Golfer's Welcome Package
All Technology Subscriptions (1-year) of technologies used during your golf school experience.
Additional Rounds of Golf (18-holes/by request with additional fees)

Group Golf School Experiences at McLemore

Customize a Group Improvement Experience of any size
Group Golf Schools can include any amenities and features, with pricing reflective of inclusions.
Securing Your Holiday Gift, a Half-Day McLemore Golf School Experience
The time to secure your golfer's Half-Day McLemore Golf School Experience as a 2022 Holiday Gift is now. Dates for Spring/Summer of 2023 will fill quickly.  Especially with the special 2022 Holiday Golf Gift savings now available.  All dates are secured on a first come, first serve basis. With special holiday savings lasting until December 25, 2022.
Rates start from $949 for a Half-Day Golf School Experience and $1850 for Full-Day McLemore Golf School Experiences. With additional holiday gift giving savings to apply to your purchase.
Act now!  To secure a once in a lifetime golf school experience your golfer will enjoy and use for years to come. A Half-Day McLemore Golf School Experience is a one-of-a-kind experience offered no where else.  And is a gift that keeps giving beyond the 2022 Holiday Season.
To reserve your golfer's 2022 Holiday Gift contact John Hughes Golf at 407-852-8547 or John@JohnHughesGolf.com.  Or use this page to secure your golfer's special holiday golf gift.