Golf Instruction Programs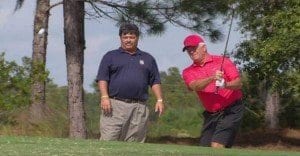 No matter what Orlando Golf Instruction Programs you choose, I guarantee you will experience results!
With today's fast pace lifestyles, there is no such thing as a one size fits all Golf Instruction Program.  Because everyone has different needs, my Orlando Golf Instruction Programs are customized and designed to fit the needs of each individual golfer, not a "cookie cutter" or "one size fits all" method. Keeping fun as the goal, you'll gain knowledge about why you perform the way you do and why certain drills, exercises, swing aids, and other tools will help you improve.  You'll know what to practice and how to practice it. And you'll have goals set at every level to insure we can measure your progress.
Golf Instruction Programs include Beginner Golf Clinics, Skills Evaluations, Hourly Golf Lessons, Customized Golf Coaching Programs, Golf Club Fitting Sessions, Video Golf Lessons, Vacation Golf Schools, Special Populations Programs, Corporate Golf Outings and Charity Golf Events, Junior Instruction Programs, Yearly Golf Instruction Memberships,   
You can customize your Golf Instruction Program the way you wish, to include any component that allows you to reach your potential.
Within all programs, John uses state of the art golf technology to measure your success. You'll be able to see what John sees, and confirm your progress, having access to the data collected.
Follow-Up is key to your progress, which is why John includes free phone, text, and email follow-up within all his Golf Instruction Programs.  It's good to know that between sessions with John, he'll be there to assist you with any questions you have about your Golf Instruction Program.
Call John Hughes Golf now at 407-852-8547 or email John@JohnHughesGolf.com to secure a Golf Instruction Program
Need More Information?
Provide your questions or comments and John will personally contact you.